Trustee Application & Information
Any Elbert County citizen may fill out an application for consideration as a Trustee at any time, regardless of seat vacancies. Your application will be considered during the next available vacancy.
Two board positions will be coming up for re-election this month, in January 2022, one board position is currently vacant.
President Patty Lampman 
(Term expires January 2023)
Vice President Robert Thomasson 
(Term expires January 2022)
Secretary Karen Suchan 
(Term expires January 2022)
Treasurer Alan Krenek
(Term expires January 2024)
1 vacant position (formerly Jim Duvall, Term expires January 2024)
Board Meeting Agenda, Minutes & Recordings
2022-01-03 Special Meeting Minutes (not yet approved)
Service level changing from Wednesday Jan 5th, 2022
From Wednesday, January 5, 2022:  All Pines & Plains Libraries buildings will be closed for in-person visits due to extremely high levels of the COVID virus in Elbert County. We WILL continue to provide curbside service during regular library hours. The buildings will reopen for in-person visits when COVID levels return to levels more in line with those of recent months.
We will still continue to have our Wi-Fi available 24/7, and offer printing and faxing services.   For printing: please bring with you the digital documents on a flash drive; for faxing: please bring the documents in an envelope.
2021-01-27 Meeting (not recorded)
2021-05-26 Meeting (not recorded)
2021-07-28 Meeting (not recorded)
2021-10-14 Budget Proposal Session
2021-11-10a: Special Meeting (not recorded)
2021-11-10b: Work Session (not recorded)
2021 Board Meeting Schedule
Most meetings are held at the Elizabeth Library at 6 pm. Exceptions are listed below. Visit our Library and Hours webpage for addresses and phone numbers. During this season of Covid 19, many of our meeting are held virtually. Please check with your local branch for the details of upcoming meetings.
January 27th
February 24th
March 24th
April 28th
May 26th Kiowa Library
June 23rd Simla Library
July 28th
August 25th
September 22nd Elbert Library/School
October14th – special meeting for budget presentation
October 27th
November 10th – special meeting
November 10th – work session
November 22nd – special meeting
November 23rd
December 6th
The members of the Pines & Plains Board of Trustees are responsible for forming policy and approving distribution of funds. The Library Director is responsible for policy compliance, strategic planning and execution, and logistics. Branch Managers supervise the day to day operations, collection development, and facilities at their assigned branch library. Library Service Leads ensure excellent circulation, reference, reader's advisory, and technology services on the front lines. Library Service Technicians perform technical service and circulation tasks under the supervision of the branch manager and library service lead. Activity Services Guides (formerly known as "Program and Outreach Coordinators") plan, facilitate, and perform activities both in and out of the library.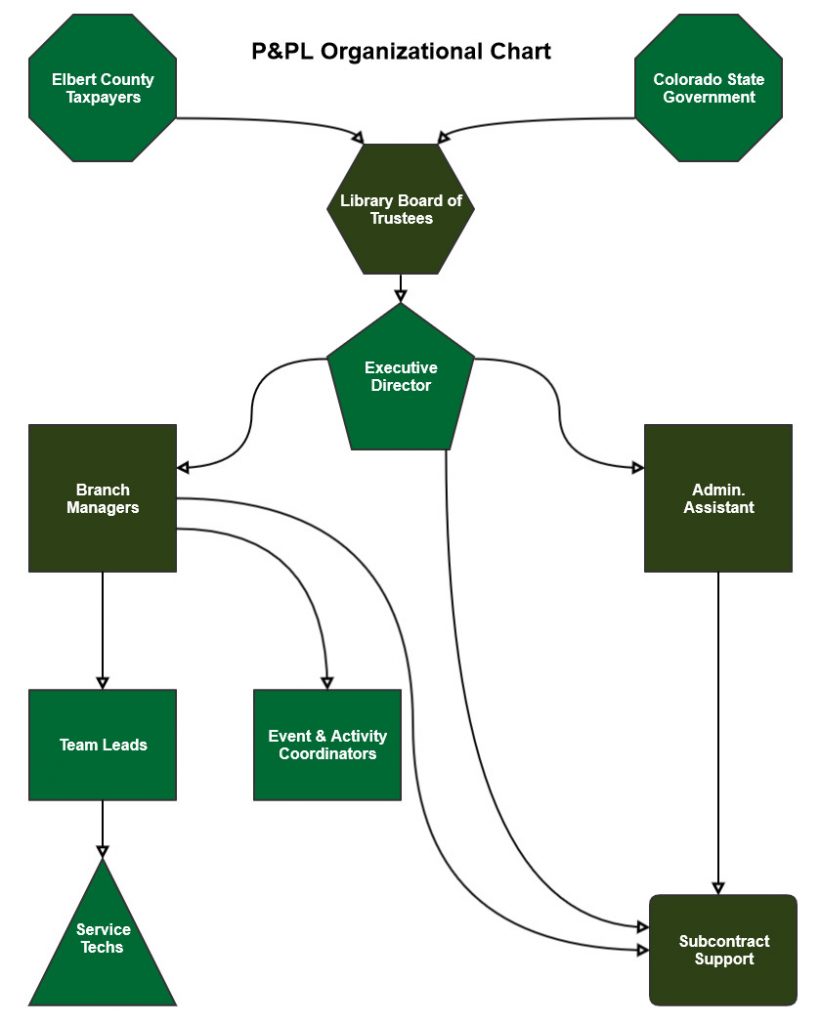 President Patty Lampman (Term January 2023)
Vice President Robert Thomasson (Term January 2022)
Secretary Karen Suchan (Term January 2022)
Treasurer Alan Krenek (Term January 2024)
1 vacant position (formerly Jim Duval, Term January 2024)