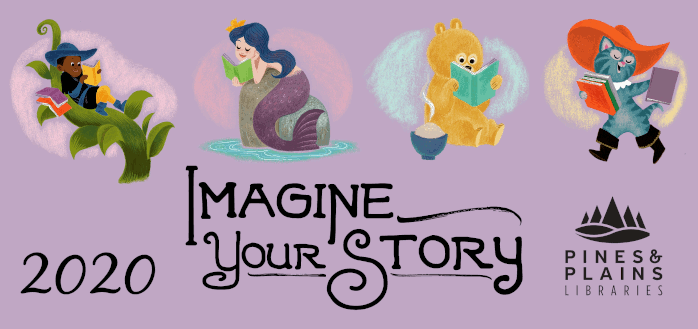 Pines & Plains Libraries registration for the 2020 Summer Reading Program is now live! "Imagine Your Story" with activities and challenges weekly to keep our community members of all ages engaged and interacting. Completing reading logs will earn our readers a prize, and your completed log will also be your entry for one of our grand prizes! It doesn't matter if you're listening to an audiobook, reading to the kids/grandkids, utilizing one of our e-book apps, or enjoying a physical book, all are welcome and earn progress on the reading logs.
Sign up here: https://pplibraries.readingrecord.net/
Download the ADULT BINGO LOG SHEETS here
Download the 2020 SRP Calendar here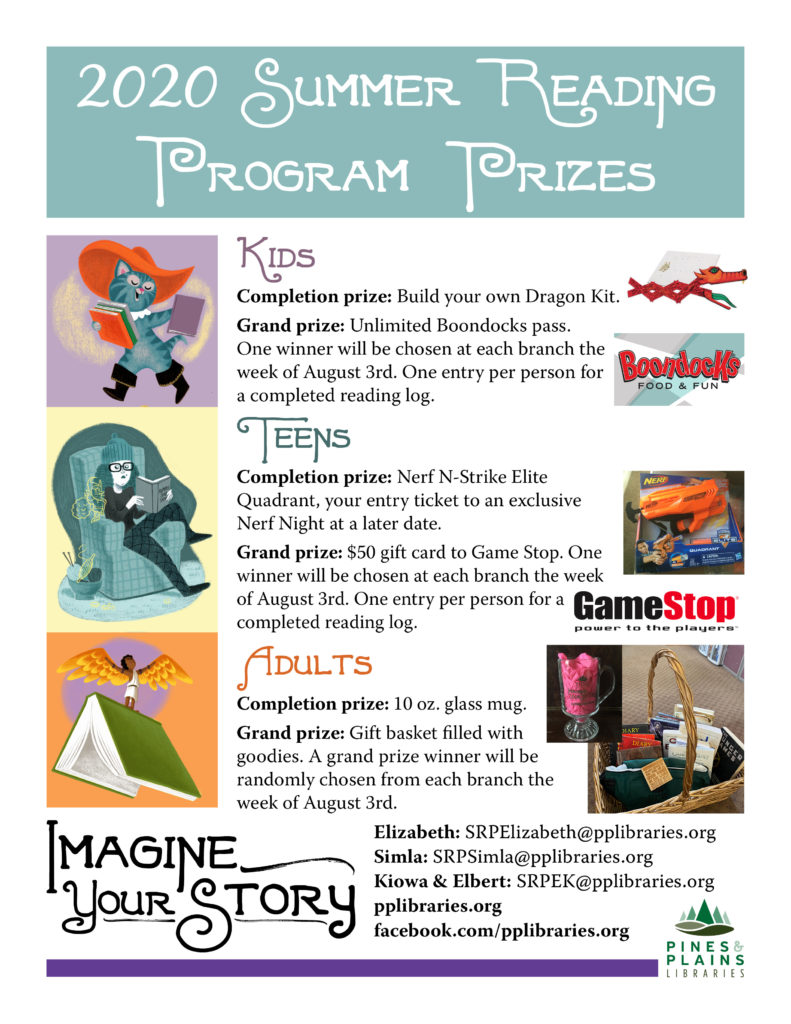 For more information about our digital resources and apps, and to sign up for a library card for access to them, please visit our "Beyond Books" page here: https://pplibraries.org/downloads/
Our libraries keep our wi-fi up and open, even when we are closed so that you can have internet access to download materials, work on your own projects, or find entertainment. We will be posting information about our re-opening on our Facebook page, on local Nextdoor pages, as well as here on the home page of our website, when the time comes. Thank you all!
COVID-19 Resources Page is now live and will continue to update. Find links to help with financial questions, unemployment, SBA small business loans, independent contractors and more.
NOTICE OF PINES AND PLAINS LIBRARIES TEMPORARY CLOSURES:
Colorado Governor Jared Polis issued an Executive Order on April 26th, 2020, requiring most Coloradans and non-essential workers to stay at home whenever possible due to the presence of coronavirus disease 2019 (COVID-19) in the State. See the "Safer at Home Order" here: https://covid19.colorado.gov/safer-at-home
In accordance with the Order, the Board of Trustees of Pines & Plains Libraries has voted unanimously to close all District libraries until further notice. Please do not attempt to return any library materials during this closure. Pines & Plains Libraries remain late-fee free, and we will automatically extend due dates. You may return your borrowed items when our libraries open again. Additionally, all programs and meetings scheduled during this closure are cancelled.
We will keep our Wi-Fi open and available 24/7, so that you can park or sit outside the building and use the free internet. You can check out e-books, audiobooks, or use Worldbook digital content during closures as well. Just tap, click, or mouse-over the "Beyond Books" menu at the top of the website.
Staying at home? Visit our Facebook Page for LIVE Storytimes several times a week to keep you and your little ones going during the extra time at home – visit the "Videos" tab on the left side of our Facebook page: https://www.facebook.com/pplibraries/ You can look back through the videos to access past Story Time videos, which we will be uploading to our YouTube Channel as well. Our first is posted here: https://youtu.be/roQwmqBwITc