NOTICE: Book Drops are open again! Feel free to return library items at any time convenient for you.
Read our Diversity, Equity, and Inclusion Statement by clicking here
UPDATE! CURBSIDE SERVICE HOURS ARE EXPANDING FOR ALL OF OUR LIBRARIES, STARTING MONDAY, JUNE 22nd!
Come by to pick up holds you place online using our catalog (type in titles or authors in the text box at the top right of this page, and click the "Look for an Item" button), or give us a call and we'll help you get what you want.
Elbert Curbside hours: Mon 12:30p – 3:30p; Tue-Thu 5:00p – 6:30p / Phone: 303-648-3533 / Address: 24489 Main Street, Elbert, CO.
Elizabeth Curbside hours: Mon – Thu 9:30a – 7:30p; Fri 9:30p – 4:30p; Sat 10:30a – 4:30p / Phone: 303-646-3416 / Address: 651 W. Beverly St., Elizabeth, CO 80107
Kiowa Curbside hours: Mon 10:30a – 5:30p; Tue – Fri 9:30a – 4:30p; Sat 11:30a – 3:30p / Phone: 303-621-2111 / Address: 331 Comanche St. (Hwy 86), Kiowa, CO 80117
Simla Curbside hours: Mon – Fri 10:30a – 6:30p; Sat 10:30a – 1:30p / Phone: 719-541-2573 / Address: 504 Washington Avenue, Simla, CO 80835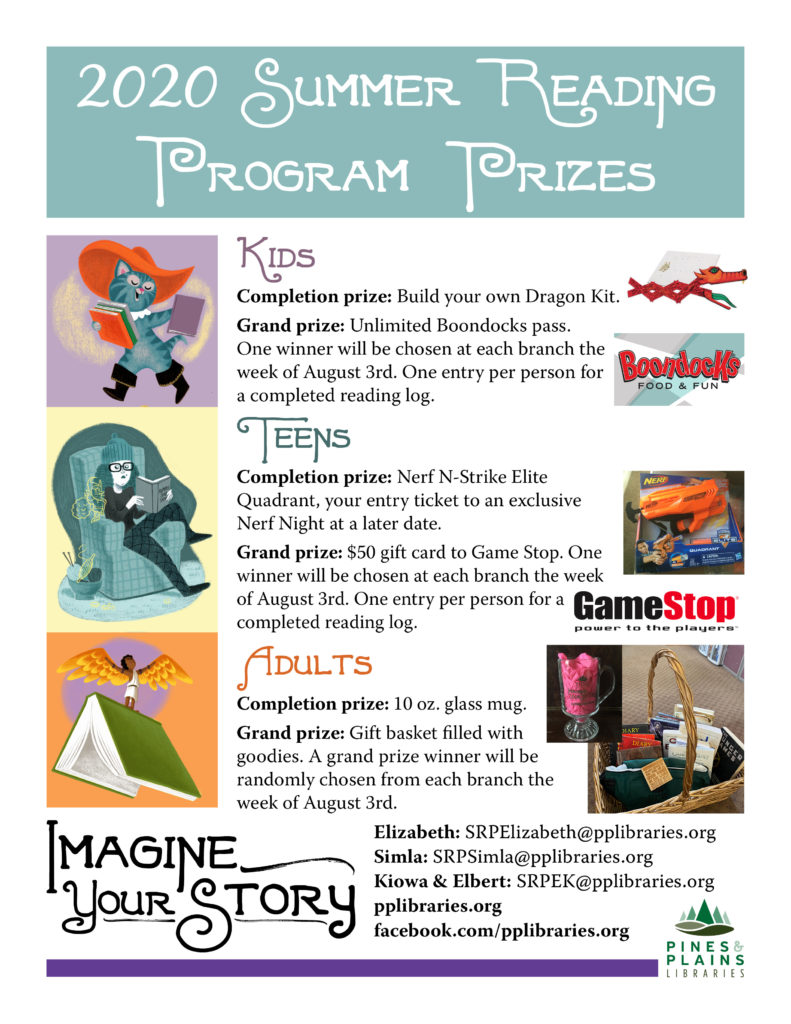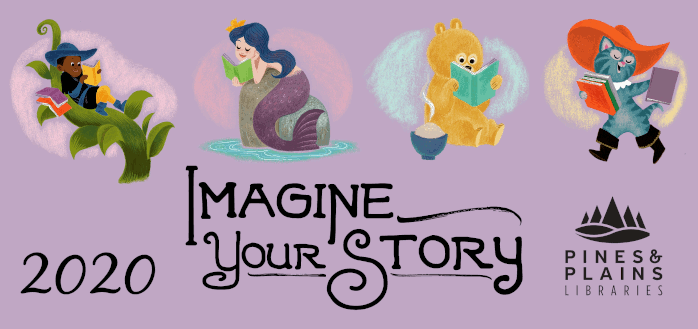 Imagine Your Story – Summer Reading Program 2020!
Pines & Plains Libraries registration for the 2020 Summer Reading Program is live! "Imagine Your Story" with activities and challenges weekly to keep our community members of all ages engaged and interacting. Completing reading logs will earn our readers a prize, and your completed log will also be your entry for one of our grand prizes! It doesn't matter if you're listening to an audiobook, reading to the kids/grandkids, utilizing one of our e-book apps, or enjoying a physical book, all are welcome and earn progress on the reading logs.
Sign up here: https://pplibraries.readingrecord.net/
Download the ADULT BINGO LOG SHEETS here
Download the 2020 SRP Calendar here
Books, Movies, Digital content, oh my!: For more information about our digital resources and apps, and to sign up for a library card for access to them, please visit our "Beyond Books" page here: https://pplibraries.org/downloads/
Keeping you connected: Our libraries keep our wi-fi up and open, even when we are closed so that you can have internet access to download materials, work on your own projects, or find entertainment. We will be posting information about our re-opening on our Facebook page, on local Nextdoor pages, as well as here on the home page of our website, when the time comes. Thank you all!
COVID-19 Resources Page is now live and will continue to update. Find links to help with financial questions, unemployment, SBA small business loans, independent contractors and more.