Updates (week of 10/19/21)
PUBLIC NOTICE –
NOTICE AS TO PROPOSED 2022 BUDGET
(Pursuant to 29-1-106, C.R.S.)
ELBERT COUNTY LIBRARY DISTRICT dba Pines & Plains Libraries
Notice is hereby given that a proposed budget has been submitted to the Elbert County Library District dba Pines & Plains Libraries for the year of 2022. The proposed budget is open for public inspection at all of the Elbert County Library District branches and via pplibraries.org. A Public Hearing open to anyone interested will be held via a GoToMeeting at a Regular Board Meeting on Tuesday, November 23rd, at 6:00 p.m., where the Board may adopt the 2022 budget. The hearing will take place virtually, via GoTo Meeting. To log into the meeting via Internet, visit the link:
Meeting for Tuesday, November 23rd, 2021 at 6:00 pm
Access here: https://www.gotomeet.me/pinesandplains
To log into the meeting via telephone, dial 1 (872) 240-3412 and use the access code: 298-002-181.
The GoTo Meeting app may be found at https://global.gotomeeting.com/install/298002181
Any interested elector of the Elbert County Library District may inspect the proposed budget and file or register any objection at any time prior to the final adoption of the budget.
BY ORDER OF THE BOARD OF TRUSTEES
ELBERT COUNTY LIBRARY DISTRICT
Get Crafty - pick up your reservations this week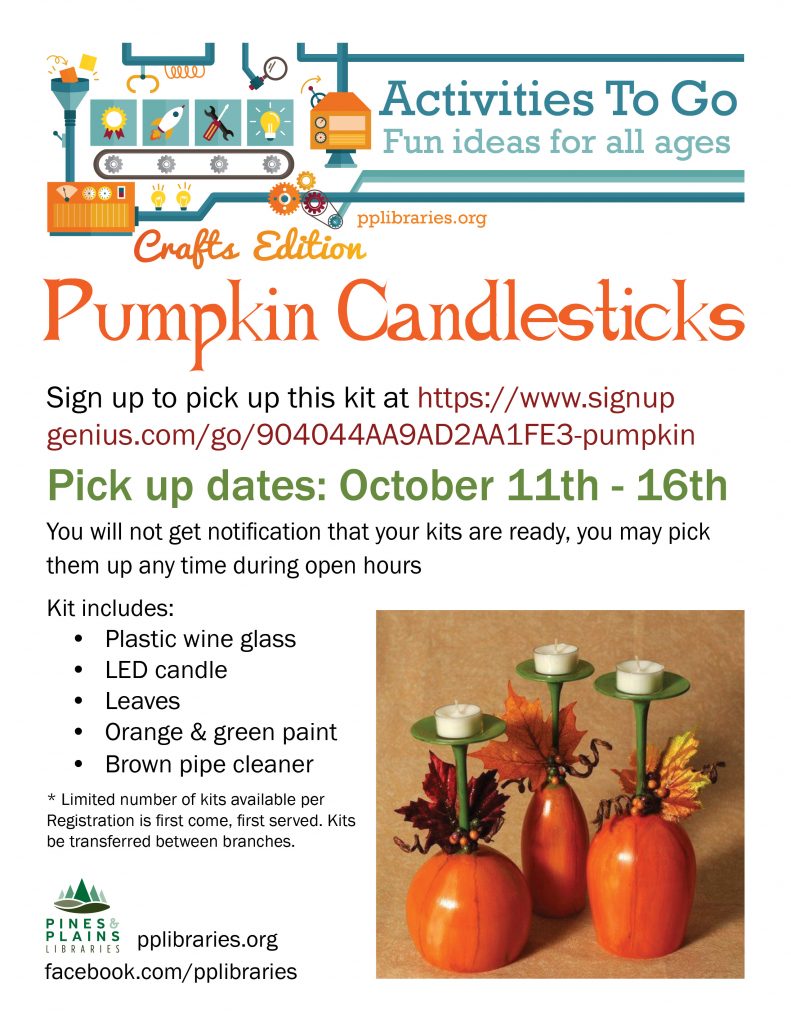 Put your Lego Building to the test
Lego building weekly in Elbert!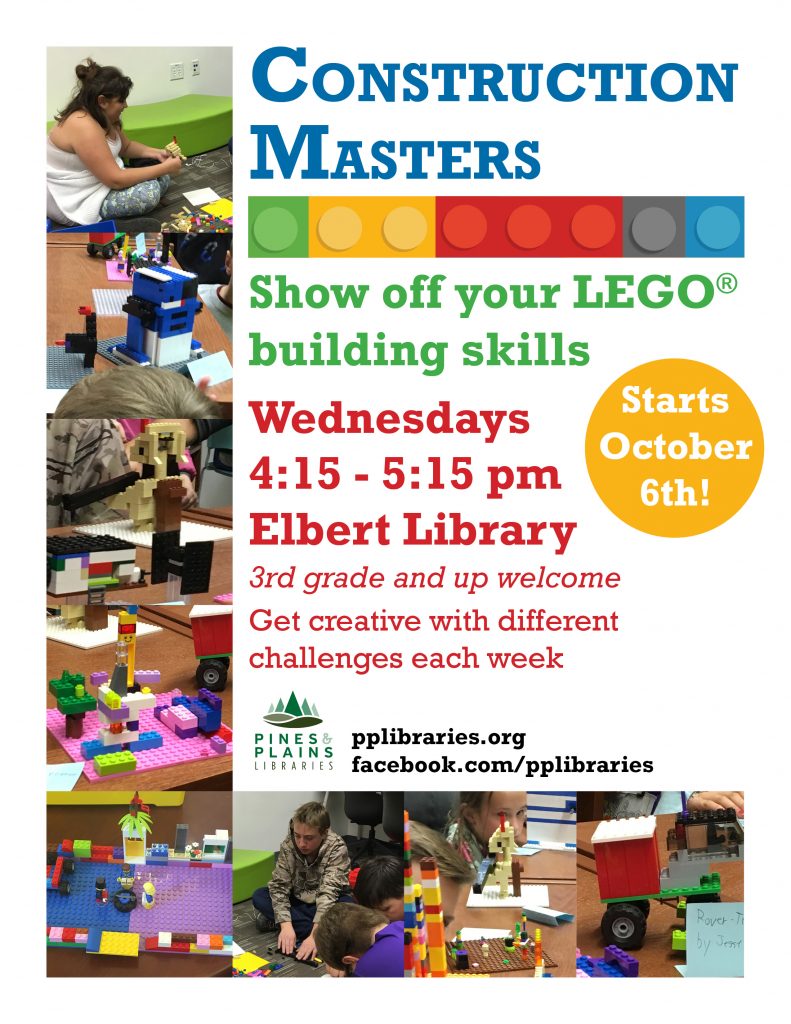 Week 1: Piece it Together (literacy) October 4th-9th
We'll have popular YA book cover puzzles to work on in the teen area to play with.

Week 2: Caption This and Compliment Box (writing) October 11th-16th
We'll have wacky photos on poster boards that teens (and adults) can add sticky note captions to. There will be a new picture for every day of the week.
Compliment Box: We will be rolling our our "take a compliment, leave a compliment" boxes.  Feel free to take a compliment, and write one or more on the index cards provided to brighten someone's day!
Week 3: Unplugged Coding (technology) October 18th-23rd
Work through computational thinking to "code" a monster with paper and markers. These are self-guided projects you can find in the teen area this week.

Week 4: Window Painting and Flextangles (art) October 25th-30th
What better way to invite teens than to have them decorate? We will have washable window markers to help decorate the windows in the teen area.  We will also have flextangles, 3-D shapes to color and fold to help decorate.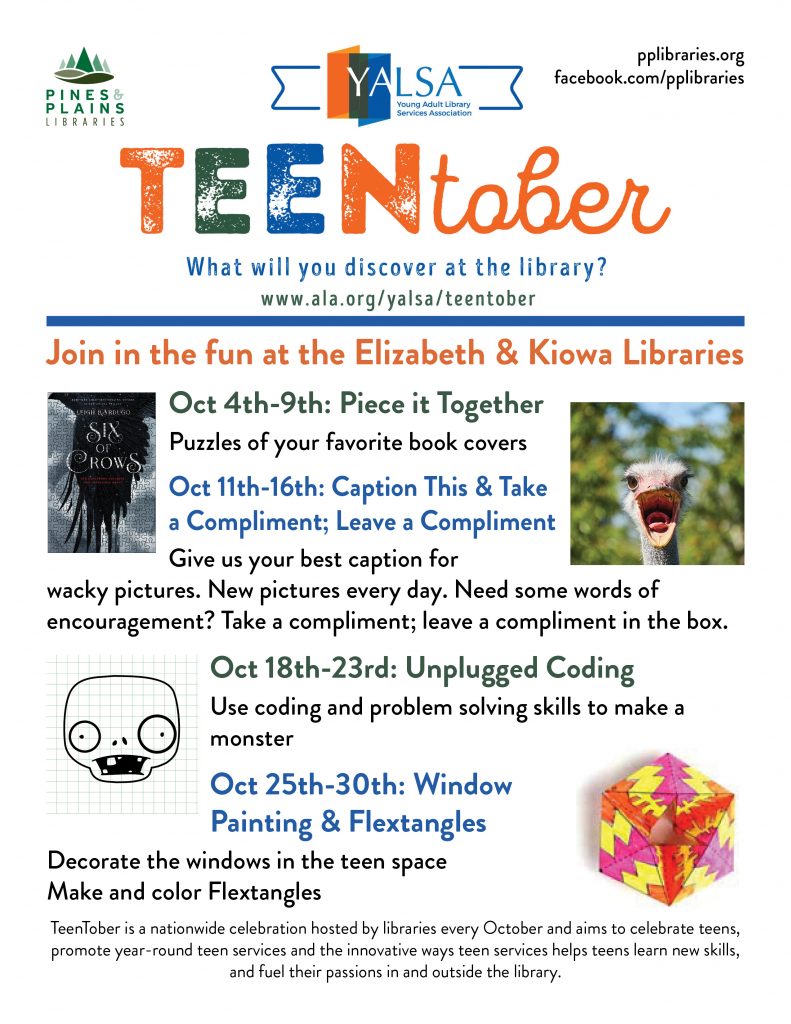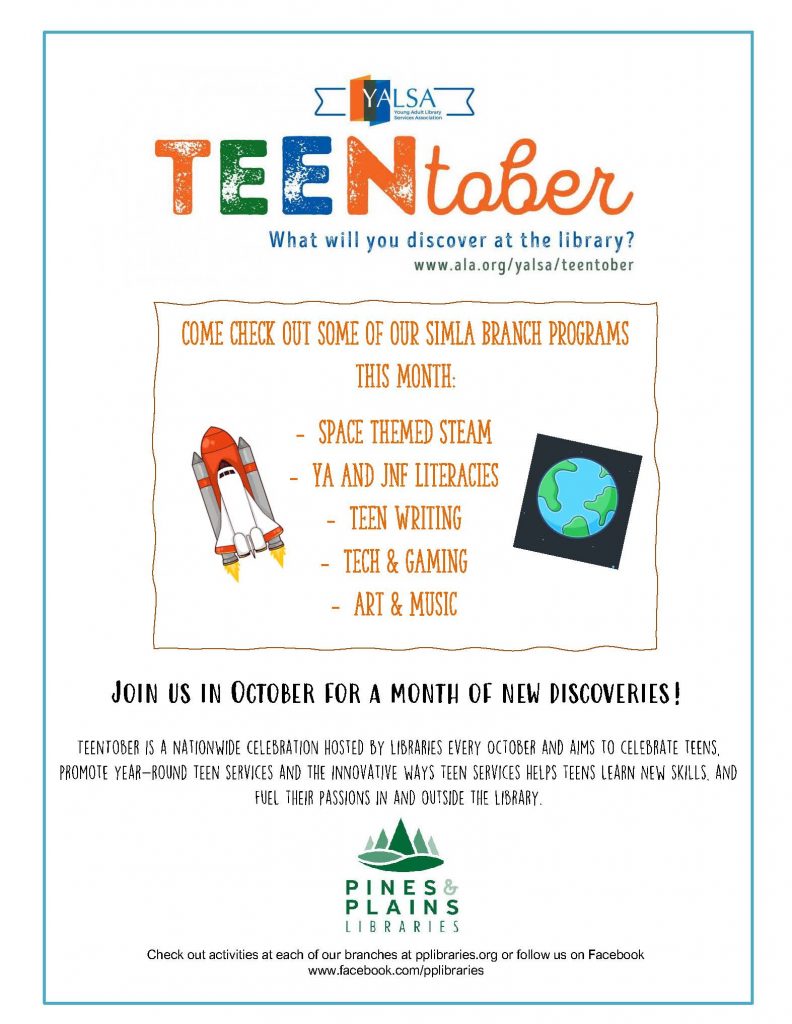 Libraries are open for visits, and still offer curbside service.
We still offer curbside service to bring items out to you at the door or your vehicle; place holds by searching the catalog with your account, or call ahead to your local library. Our Wi-Fi is accessible 24/7 so that you can get on the internet from your devices even when we are closed.
Meeting rooms are closed at this time.
All library meeting rooms are CLOSED to public use, due to COVID positivity
rate increases in Elbert County.
Sorry for the inconvenience.
At this time, library programs will be allowed in the main part of the libraries and outdoors.
We hope you enjoy the new look. More content coming weekly as we migrate our data, links, and more! Updated 10/12/21