Updates (week of 1/22/21)
KN95 Mask Distribution: available at all locations
All 4 of our Pines & Plains Libraries sites are distributing sites for the KN95 masks for our communities.
You can stop by Elbert, Elizabeth, Kiowa, or Simla locations during our operating hours, and as with our curbside service, you can call us from your car, or come to the front doors and use the doorbell/intercom to let staff know you're here.
Masks are limited to 5 per person per month.
Adjusted Hours for our Simla Branch
Please note that our Simla Branch will have adjusted hours of 10am to 4:30pm Monday-Friday and 10am to 2pm on Saturdays until further notice. Curbside services will continue the same during these adjusted hours. Updates can be found on our Facebook Page as well.
Curbside Service Only: all locations, from Wednesday 1/5/2022 until further notice
From Wednesday, January 5, 2022:  All Pines & Plains Libraries buildings are closed for in-person visits due to extremely high levels of the COVID virus in Elbert County. We WILL continue to provide curbside service during regular library hours. The buildings will reopen for in-person visits when COVID levels return to levels more in line with those of recent months.
Here's how curbside works: We will assist you from our parking out front, so you don't even have to leave the comfort of your car. You can place holds from our home page using the "Search the Catalog" search bar, or by calling us (we recommend you call ahead so we can be sure the item is on the shelf). We'll get your items set aside for you, and when you're at the library you can give us a call or come to the front door and buzz the intercom/doorbell to let us know, and we will bring your items out to you.
We will still continue to have our Wi-Fi available 24/7, and offer printing and faxing services.
For printing: please bring with you the digital documents on a flash drive; for faxing: please bring the documents with a cover sheet that contains the fax number to send to.

Upcoming Board of Trustees meeting: Wednesday 1/26/22 @6pm
There is an opening for part time maintenance and upkeep work for our Elizabeth and Kiowa branches.  Look under: Building Repair and Maintenance Contractor
There are several positions that have yet to be listed:
Director
Financial Administrative Assistant
Regardless of openings, job applications can be submitted anytime, simply download the General Application from our About Us > Job Opportunities page, fill it out, and email your application (and any other relevant info) to the appropriate Branch Manager.
When our libraries open again, here are some regular groups that meet:
Elizabeth Lego builds once a month!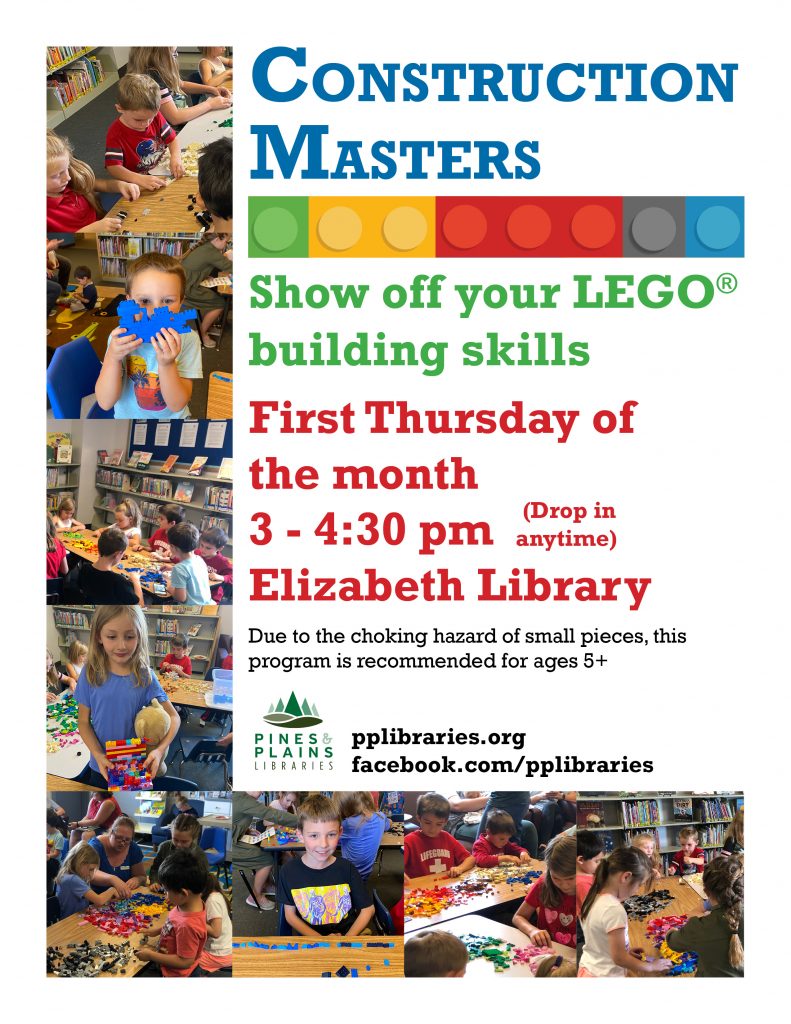 Lego building weekly in Elbert!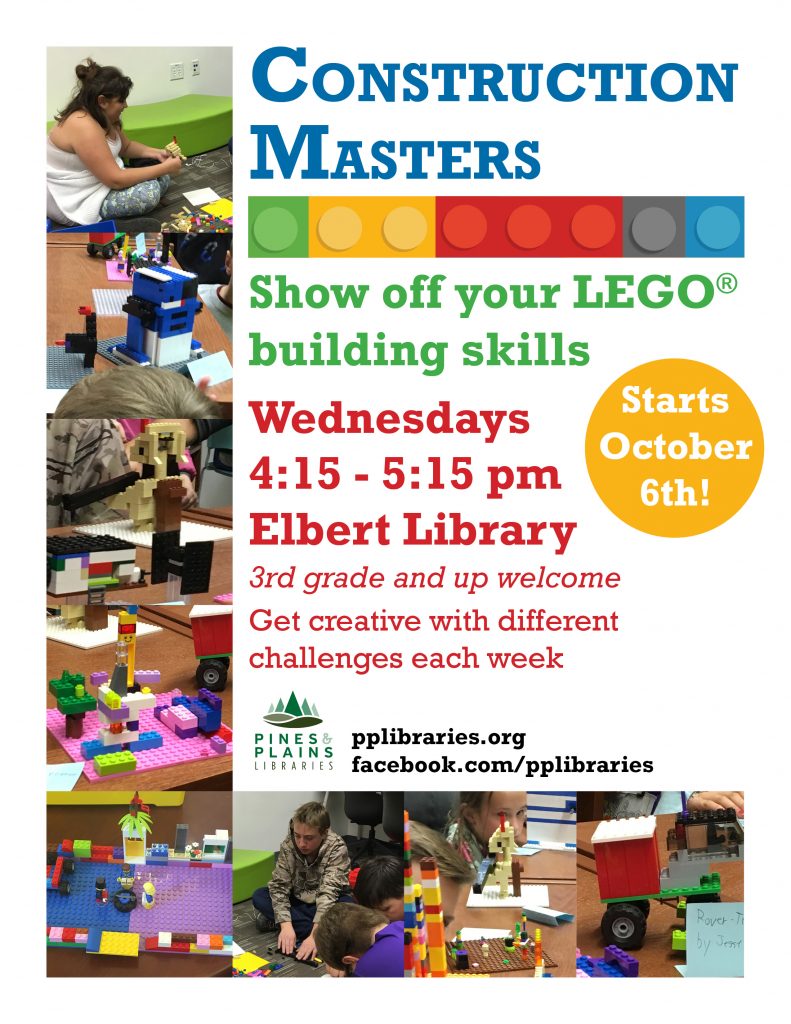 Libraries are open for visits, and still offer curbside service.
We still offer curbside service to bring items out to you at the door or your vehicle; place holds by searching the catalog with your account, or call ahead to your local library. Our Wi-Fi is accessible 24/7 so that you can get on the internet from your devices even when we are closed.
Meeting rooms are closed at this time.
All library meeting rooms are CLOSED to public use, due to COVID positivity rate increases in Elbert County.
We apologize for the inconvenience.
At this time, library programs will be allowed in the main part of the libraries and outdoors.
President Patty Lampman (Term January 2023)
Vice President Robert Thomasson (Term January 2022)
Secretary Karen Suchan (Term January 2022)
Treasurer Alan Krenek (Term January 2024)
1 vacant position (formerly Jim Duval, Term January 2024)
Any Elbert County citizen may fill out an application for consideration as a Trustee at any time, regardless of seat vacancies. Your application will be considered during the next available vacancy. Two (2) board terms will be coming up in January 2022, one (1) board position is currently vacant.